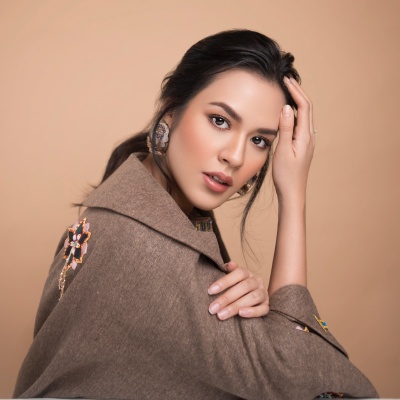 Raisa
"I'm a singer, in love forever with it. In it for the love of music, not for the glitter and gold"
Born on June 6 1990, Raisa Andriana or more known as Raisa is an Indonesian female pop singer. Heavily influenced by many Pop / R&B singers of the 90s such as Brian McKnight, India Arie, Stevie Wonder, etc, Raisa gained recognition after just launching her debut single 'Serba Salah' in 2010. The next year 2011, Raisa released her self-titled debut album that consisted many of her new songs such as "Apalah (Arti Menunggu)", "Could It Be" and "Terjebak Nostalgia", the following year Raisa won as the Best Newcomer at Anugerah Musik Indonesia (AMI) and not long after, she released her sophomore album called 'Heart to Heart' in 2013 and featured songs like "Bye-Bye", "LDR", "Pemeran Utama", and "Teka Teki". The same year, Raisa had also was given the opportunity to sing the Indonesian adaptation version of Disney's Cinderella 'Mimpi Adalah Harapan Hati' ( 'A Dream is a Wish Your Heart Makes' ) from the movie Cinderella.

After doing a huge number of shows since 2013, Raisa then decided to hold her very own concert in 2015 called 'Raisa Live In Concert Istora Senayan' at Jakarta and was attended by more than 5,000 people. A second concert was also made in Surabaya, and reached more than than 3,000 audiences.

Raisa finally released a new album in 2016. The release of her third album 'Handmade' also marked as Raisa's first release and executive produced by her own label that she
initiated with her manager Adryanto Pratono called JUNI Records. The album was also produced by one of Raisa's trustee bandmate at the time, Marco Steffiano. The album also featured 'Kali Kedua' as the first and lead single, after the release the song quickly topped the music charts not only in Indonesia but also Southeast Asia. Because of 'Kali Kedua' and the album 'Handmade' Raisa received 7 AMI Awards 2016, including Best Pop Female Solo Artist, Best Pop Album, and Best of the Best Album among others. Since her first debut a few years back, Raisa had grown tremendously especially her songwriting and the genres in which she explored. In 2017 she had proven herself that she is capable of writing songs other than about monkey love and heartbreaks. She released a collaboration single with fellow Indonesian singer, Isyana Sarasvati With the song, "Anganku Anganmu", both of these sensational singers talks about supporting each other's dream and empowering women. The same Raisa also released a song titled "Teduhnya Wanita" which also brought out the message of how women can mean to men. Her definition of love also extends to other relationships. In 2018 Raisa released a song that was dedicated to her mother called "Lagu Untukmu". Raisa also has collaborated with Indonesian DJ / music proucer, Dipha Barus on 3 songs including"My Kind of Crazy" which won AMI Awards 2019 for the Best Soul/R&B Collaboration and also released "Mine (Day)", and "Mine (Night)". The same month as the release of 'Mine', Raisa held a concert entitled 'Fermata', which was a concert dedicated towards her listeners and marked her temporary leave due to her first pregnancy, the concert was fully sold out. Having to had 7 months off, now Raisa has comeback stronger and is aiming on bigger things. She released a brand new song titled 'Kembali' that coincidentally means comeback. On October 2019, Raisa released a 2ndnd single of 2019 called "You" that was written by Gamaliél Tapiheru . In this song Raisa had step out of her game and her comfort zone. Not stopping there, on November 21st Raisa announced that she's about to have a stadium level concert at Stadion Gelora Bung Karno in 2020.
ACHIEVEMENT
1 Award in Indonesian Choice Awards 2018
2 Awards in Indonesian Choice Awards 2017
1 Award in Anugerah Planet Muzik 2017
2 Awards in AMI Awards 2017
7 Awards in AMI Awards 2016
2 Awards in Anugerah Planet Muzik 2016
2 Awards in Inodnesian Choice Awards 2016
1 Nomination in MTV Europe Music Awards 2016
3 Awards in Indonesian Choice Awards 2014
1 Award in Mnet Asian Music Awards 2014
4 Nominations in World Music Awards 2014